Performance Management System Fully Integrated
Online Web Based System
Performance Management System-Fully Automated
PMS Evaluation or Performance Management Cycle
| Sr. | Roll Individual | PMS Activity at start of the appraisal period | Six Month Evaluation | Appraisal Cycle Evaluation (Year) |
| --- | --- | --- | --- | --- |
| | PMS Coordinator | Announce PMS process in discussion with HR Head | Start the process | Start the process of Performance appraisal (Notification) |
| 01 | Employee | Set Individual KRA/KPI for appraisal period | Fill & submit Six months self-evaluation. SMART way. | Fill & submit self-evaluation for a period |
| 02 | Line Manager | Evaluate subordinates KPI/KRA, discuss and Accept. | Discuss, suggest and approve | Discuss, suggest, make changes & approve |
| 03 | HOD | Approval of all KPI/KRA & submit to HR | Discuss, suggest and approve | Discuss, suggest, make changes & approve |
| 04 | PMS Coordinator | Collect all details and discuss with HR Head | Collect all details and discuss with HR Head | Compile, evaluate and make analysis, Identify good and poor performer & submit report to HR Head |
| 05 | HR Head | Approval | Approval | Prepare a policy, discuss with HOD and approve. Submit to CEO/COO approval |
| 06 | COO/CEO | Approval | Approval | Approval |
Auto Flow from Employee to Line manager to HOD o HR Coordinator & Director to COO/CEO for final Approval
Auto Flow from Employee to Line manager to HOD o HR Coordinator & Director to COO/CEO for final Approval
Process Flow Chart

(Format 1): Format to set Individual KPA/KRA/KPI
(This section should be completed by the employee & Line Manager/HOD together.)
| Sl. No. | Objectives/Target KPA/KRA/KPI | SpecificMeasures (What) | Weightage in % |
| --- | --- | --- | --- |
| 01 | | | |
| 02 | | | |
| 03 | | | |
| 04 | | | |
Evaluation Process
(This section should be completed by the employee & Line Manager/HOD together.)
Performance Evaluation will be done as per

Measurable specific achieved targets.
Completion of activities at par targeted one.
Benefit to the organization from performed activities.
Concern while doing the activity for future scope of improvement.
Self-evaluation by employee.
Line manager & HOD evaluation.
HR evaluation approved by Head of the plant

Competency Assessment report

This report to come automatically from LMS module in % , also in pie chart or spider chart

Feedback from direct & indirect stake holder: To get overall feedback about employee

Auto feedback & Assessment Survey system do work here.
Email for online feedback to go to all relational whose email ID either to set or manually put for feedback.
Score of each to come as an average in the format. This process can be done any time in a year.
This can be considered or not to be decided by individual management. We are setting this in system with zero weightage (means *0 in a formula).
Performance Development Plan (PDP) or Training Need Identification for self-Improvement:
This part of the PMS should be used to identify Skills , SWOT and areas of improvement (TNI) for the purpose of providing information to HR to etermine future development needs. This section can be submitted at the interim and final appraisal but must be submitted at a minimum of one time during the performance cycle.
In our system this process is fully automatic. TNI are related to skills. SWOT analysis also automatic can be viewed by individual HOD or HR.
Training requirement can be informed through auto process already developed.
Personal/Professional Development Plan
| Sr. No. | Area of Improvement | Suggested Development/ Improvement suggestion | Learning Solution | Training Requirement Selt & approved by HOD |
| --- | --- | --- | --- | --- |
| 01 | Functional/Technical | | | |
| 02 | Soft Skill/HR Skill | | | |
| 03 | Safety | | | |
| 04 | Management MDP | | | |
| 05 | Quality/business Excellence | | | |
| 06 | Certification | | | |
| 07 | Leadership | | | |
| 08 | Team Building | | | |
PMS Evaluation Report and Evaluation
PMS Evaluation gives the detailed report what and how the employee performed in a year, benefits to the organization, various concerns during performing and future scope of improveme nt.
Auto processed Report to be submitted by PMS coordinator for every individual one by one to HR Head for an approval .
All process to carry out online..
Formula for final grading can be applied or Bell curve if found useful can be applied.
Based on Final outcome system itself will identify.

Top performer or Leaders
Employee for Competency development plan
Employees for growth development p lan
Poor performer for performance improvement plan-Auto process for PIP.

It will give you suggestions for promotion for consistent performer.
Auto linked to payroll system for % hike proposed or incentive disbursement.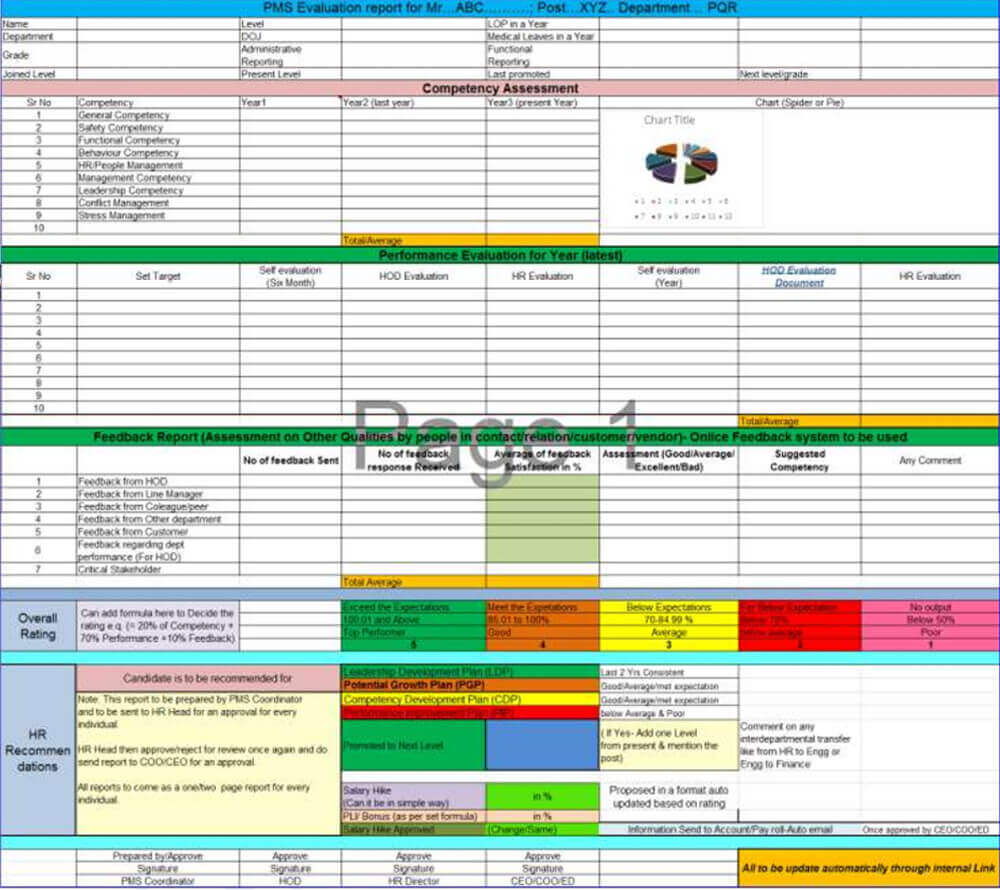 PMS Coordinator Report Format (In excel format):
Name, Department, Grade/Level
Rating Obtained
Recommendations from HOD or HR
Salary Hike proposed.
Whether promotion is recommended.
Special Comments by HOD to HR
N umber of persons in poor performance and put for Performance Improvement pla n.
Training need Identification to go to Training Manager.
Identify Poor performer and send to PIP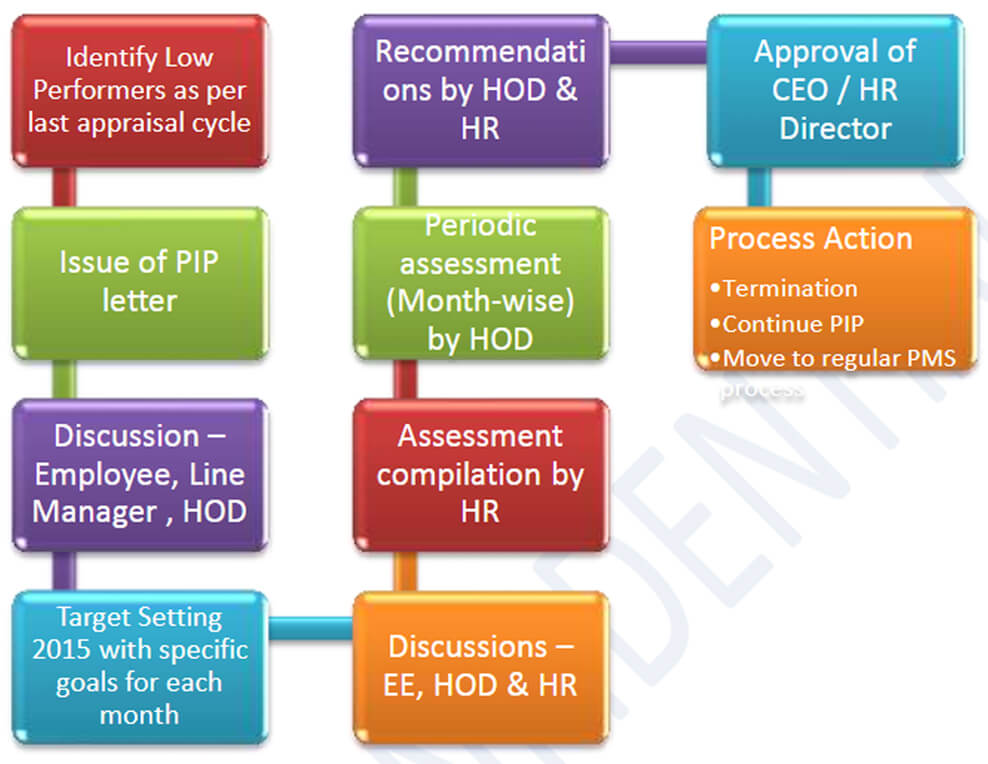 PIP Evaluation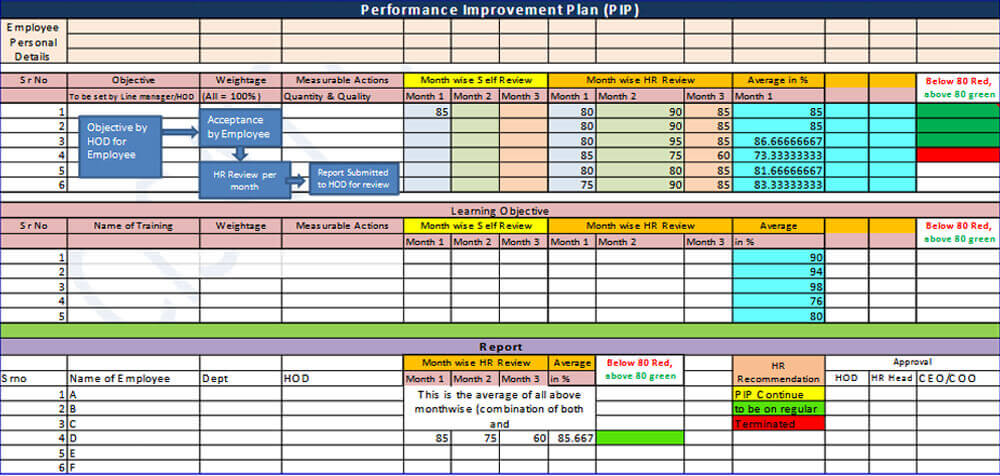 Future Development: As per requirement or further suggestions.
Various Reports
Various all types of reports can be generated from this auto system.
If you are thinking to control various units from Corporate or Outsource the Training function, give us a chance to meet and discuss.